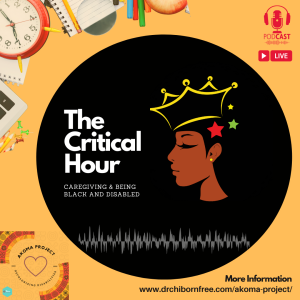 The Akoma Project team is launching the Critical Hour podcast soon! Are you skilled or interested in digital organizing? Want to join a collaborative process that explores ways to end the school-to-prison pipeline? Help us grow this initiative by joining the podcast planning team.
We have current volunteer opportunities openings:
Event organizer: You would meet every other Wed. at 9am with the J.E.D.I. Planning Committee to plan upcoming community baby showers and celebrations 

Admin support: You would provide research for costs of services to inform grant writing; create spreadsheets and organize files for projects

Outreach support: You would assist in reaching out to folks to participate in projects or/and meet with staff to build partnership

Executive Assistant Fellow
This fellowship will enhance and amplify Chi Bornfree's professionalism, effectiveness, and productivity while offering the fellow the opportunity to develop their own social entrepreneurial and community organizing skills. This is a part-time position with a monthly stipend.
For consideration, email your resume to claudia@drchibornfree.com and include a short paragraph with your interest and schedule availability within the email. Include "Chi Bornfree Fellow Application" in the email subject.