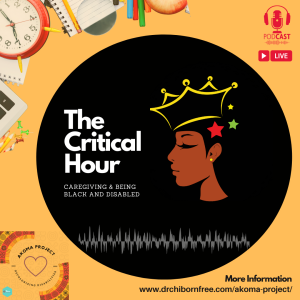 The Akoma Project team is launching the Critical Hour podcast soon! Are you skilled or interested in digital organizing? Want to join a collaborative process that explores ways to end the school-to-prison pipeline? Help us grow this initiative by joining the podcast planning team.
Administrative Fellow (TEMP)
Our sister org, FixPat, is seeking a temporary administrative fellow to begin immediately and support through July 2022. The ideal candidate has a flexible schedule and is well-organized. The Administrative Fellow will provide support for managing the Board of Directors, the J.E.D.I. Planning Committee, and NeuroMama market research and cooperative incubator. The Fellow is also responsible for general correspondence with impacted families and volunteers. 
For consideration, email your resume to claudia@drchibornfree.com and include a short paragraph with your interest and schedule availability within the email. Include "FixPat Admin Fellow Application" in the email subject.